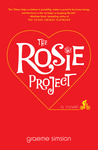 The Rosie Project by Graeme Simsion
My rating: 4 of 5 stars
3.75. Although it is never stated, Don is clearly someone with high-functioning Asperger's syndrome. I can't speak to how well he may or may not represent a true picture of someone with Asperger's. Don is just Don. The book doesn't label him, and I'm not sure how helpful that is in real life any way. I think we have all experienced being socially uncomfortable and can both empathize with and laugh at the humor in Don's predicament. And he does manage to get himself into some highly amusing situations. Don and Rosie are both quirky, unique characters. This is a light and funny read, and other than that, the plot is completely predictable. Some of the quirkiness began to get a bit tiring by the end, so I'm not sure I want to read the sequel.
Description: Don Tillman is a brilliant, yet socially challenged professor of genetics. Don decides it's time he found a wife and designs the Wife Project to find his perfect partner: a sixteen-page survey that filters out the drinkers, the smokers and the late arrivers. Rosie Jarman is not a perfect candidate. Although he disqualifies her for the Wife Project, Don is particularly suited to help Rosie on her own quest: identifying her biological father. Suddenly a relationship develops as they collaborate on the Father Project.
Leave a comment
No comments yet.