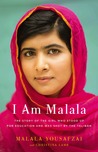 I Am Malala: The Girl Who Stood Up for Education and Was Shot by the Taliban by Malala Yousafzai
My rating: 5 of 5 stars
I was fascinated to learn more about the young girl, Malala, who gained the attention of the world when her fight for girls' education made her a target of the Taliban. She tells of her family, her school friends, her drive to be at the top of her class, her father's dream to build a school, her love of her homeland (the Swat Valley of Pakistan), her faith in God/Allah, and enough history and politics to understand her story. I was fascinated by her description of the Buddhist statues left by earlier settlers before the Muslim country was created, I laughed at her telling how she and her friends would play "Twilight" – from the books (and DVDs) about vampires, I got angry about the senselessness and violence of the Taliban agenda, I cheered at her courage and resilience, and I am sad that she and her family had to find a new home in Britain. One child, one teacher, one book, one pen – yes, it can change the world.
Book Description: When the Taliban took control of the Swat Valley in Pakistan, one girl spoke out. Malala Yousafzai refused to be silenced and fought for her right to an education. On Tuesday, October 9, 2012, when she was fifteen, she almost paid the ultimate price. She was shot in the head at point-blank range while riding the bus home from school, and few expected her to survive. Instead, Malala's miraculous recovery has taken her on an extraordinary journey from a remote valley in northern Pakistan to the halls of the United Nations in New York. At sixteen, she became a global symbol of peaceful protest and the youngest nominee ever for the Nobel Peace Prize.
The audiobook contains a PDF file of the photos in the book.