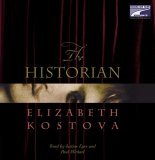 The Historian by Elizabeth Kostova
My rating: 3 of 5 stars
Unabridged audio version narrated by Justine Eyre and Paul Michael. I think it was a mistake to listen to this on audio. Even with two narrators, we are still dealing with 4 different time periods and events covering three generations. The tone and style was reminiscent of Bram Stoker's Dracula, though I could not differentiate between the father's letters and his mentors. It all sounded the same. The visual cues of reading might have helped this.
For those leery of vampires and horror novels, this is pretty mild suspense and nothing too graphic. Where the novel excels is in the descriptions of all the places visited and details of culture, food, buildings, folklore, and history. As a travelogue it's great, as a vampire story – not so much. Too many coincidences drive the plot, and what could have been a great romance just didn't satisfy.
Book description: Late one night, exploring her father's library, a young woman finds an ancient book and a cache of yellowing letters. The letters are all addressed to "My dear and unfortunate successor," and they plunge her into a world she never dreamed of-a labyrinth where the secrets of her father's past and her mother's mysterious fate connect to an inconceivable evil hidden in the depths of history.The letters provide links to one of the darkest powers that humanity has ever known-and to a centuries-long quest to find the source of that darkness and wipe it out. It is a quest for the truth about Vlad the Impaler, the medieval ruler whose barbarous reign formed the basis of the legend of Dracula. Generations of historians have risked their reputations, their sanity, and even their lives to learn the truth about Vlad the Impaler and Dracula. Now one young woman must decide whether to take up this quest herself-to follow her father in a hunt that nearly brought him to ruin years ago, when he was a vibrant young scholar and her mother was still alive.