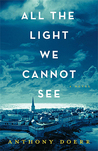 All the Light We Cannot See by Anthony Doerr
My rating: 4 of 5 stars
Review may contain spoilers……..
I liked this book a lot, but I didn't LOVE it. Definitely literary fiction – characterized by the writing rather than plot or characters. Lots of rich, beautiful, detailed descriptions about anything and everything. Plotwise, it constantly moves back and forth in time and point of view which may be distracting/discouraging for some readers. I didn't have a problem with that, although occasionally I would find myself wondering "who is this character again?" It builds up to being (or could have been) a great love story, but when the two main characters finally meet, it is late in the tale and all too brief. So that was something of a let-down for me. Also, the plot device of the valuable diamond – the story of the curse never really went anywhere. The diamond was just another "character" to be followed through the story. You could almost think of this book as a collection of short stories. Some of the characters were revisited at the end so you knew what happened to them. Others were dropped and never reappeared, or their appearance in the first place was just part of the description, but not really relevant to the plot. So bottom line – beautiful writing, lots of gaps in the plot, and an ending that made you wonder what the point was of all that the characters went through.
Book description: Marie-Laure lives in Paris near the Museum of Natural History, where her father works. When she is twelve, the Nazis occupy Paris and father and daughter flee to the walled citadel of Saint-Malo, where Marie-Laure's reclusive great uncle lives in a tall house by the sea. With them they carry what might be the museum's most valuable and dangerous jewel. In a mining town in Germany, Werner Pfennig, an orphan, grows up with his younger sister, enchanted by a crude radio they find that brings them news and stories from places they have never seen or imagined. Werner becomes an expert at building and fixing these crucial new instruments and is enlisted to use his talent to track down the resistance. Deftly interweaving the lives of Marie-Laure and Werner, Doerr illuminates the ways, against all odds, people try to be good to one another.